The John Quincy Adams Presidential Dollar (Buy on eBay) was first released into the channels of circulation on May 15, 2008. This represented the sixth overall release of the Presidential Dollar series and the second coin released during 2008.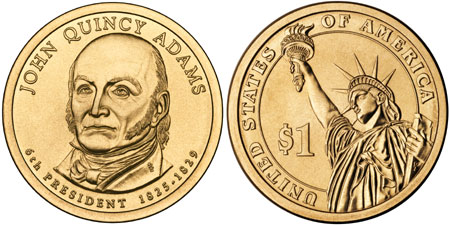 John Quincy Adams was the son of the second President John Adams. During his Presidency, he proposed a system of roads and canals to increase trade in the United States. He served one term as the 6th President of the United States from 1825 to 1829, after which he served nine terms in the House of Representatives.
There was no official launch ceremony for the John Quincy Adams Presidential Dollars, however an unofficial ceremony was held in Quincy, Massachusetts. A John Quincy Adams imitator greeter visitors to the Adams National Historical Park. Visitors exchanged paper dollars for new dollar coins at the Quincy Credit Union.
The obverse of the John Quincy Adams Dollar features a portrait of the President and the reverse features the Statue of Liberty design used on all Presidential Dollars. Both the obverse and reverse of the coin were designed and sculpted by Don Everhart.
The obverse includes the inscriptions "John Quincy Adams," "6th President," and the years of his presidential term "1825-1829." The reverse inscriptions include "United States of America," and the denomination "$1." The date and mint mark are located on the edge inscription of the coin along with the mottoes "In God We Trust" and "E Pluribus Unum."
Mintages continued to trend lower with the release of the John Quincy Adams Dollar. Each release of the series following George Washington experienced a lower overall mintage than the coin before it. For this release, the Philadelphia mint produced 57,540,000 coins and the Denver mint produced 57,720,000 circulating coins.
Coin Specifications:
Diameter: 26.5 mm
Weight: 8.1g
Thickness: 2.0 mm
Edge: Lettered
Composition: 88.5% copper, 6% zinc, 3.5% manganese, 2% nickel
Coin Mintages:
Philadelphia: 57,540,000
Denver: 57,720,000
San Francisco (Proof): 3,083,940
Other 2008 Presidential Dollars: