William Howard Taft Proof Presidential Dollars (Buy on eBay) are collectible versions of the circulating coins. 
These proof coins were offered in a 2013 Presidential $1 Coin Proof Set, 2013 US Proof Set and 2013 US Silver Proof Set and as individual Proof coins. These products were available directly from the US Mint. 
The date and mint mark are located on the edge inscription of the coin.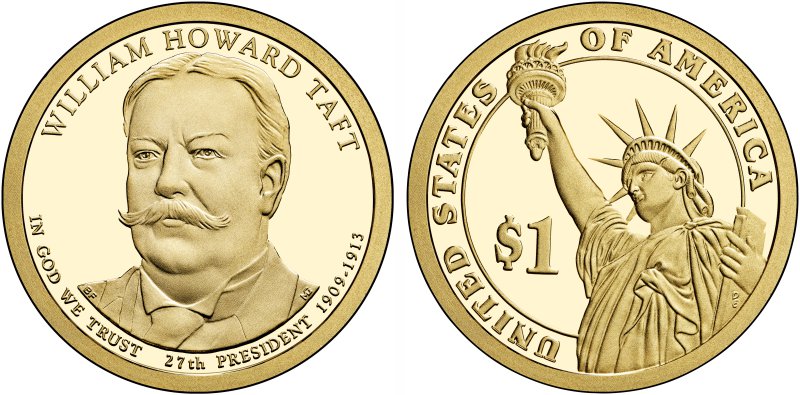 Sales of the 2012 Presidential $1 Coin Proof Sets were 266,677. 
Coin Specifications: 
Diameter:

26.5 mm

 

Weight:

8.1g

 

Thickness:

2.0 mm

 

Edge:

Lettered

 

Composition:

77% copper, 12% zinc, .070 manganese, .040 nickel

 

Proof Mintage

: 1,488,798

 
William Howard Taft Background: 
He was groomed by Teddy Roosevelt and continued many of his predecessor's policies like trust busting but did not achieve anything major of his own initiative. But after leaving office in 1921 he became the 10th Chief Justice of the Supreme Court. 
The Lincoln cent and Buffalo nickel began during his tenure. 
Notable quote: "Next to the right of liberty, the right of property is the most important individual right guaranteed by the Constitution."    
Born:

September 15, 1857 in Cincinatti, OH

 

Spouse:

Helen Herron Taft

 

Died:

March 8, 1930 in Washington, DC

 
Related: