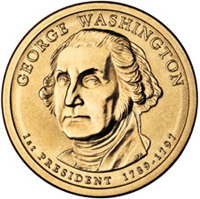 Presidential Dollars are scheduled to be released at a rate of four designs per year, with three designs released in the final year of the series. The release schedule runs from 2007 to 2016, presenting the former Presidents of the United States in the order served.
The authorizing legislation for the program provides that Presidential Dollars will only be issued to honor deceased Presidents. No coin may be issued to honor living, current, and any deceased former President during the two year period following the date of death.
Presidents who served two non consecutive terms as President are entitled to two separate coins. The only President to fall into this category is Grover Cleveland.
The following schedule lists the known circulation release dates for coins of the series. Dates listed for unreleased coins are tentative and may be subject to change.
Starting in 2012, the release of Presidential Dollars for general circulation was suspended. Release dates for this and subsequent years indicate the date when the United States Mint will first offer the circulation strike versions of the coin for sale within numismatic bags, rolls, and boxes.
| | | | |
| --- | --- | --- | --- |
| Year | President | Years Served | Release Date |
| 2007 | George Washington | 1789-1797 | February 15, 2007 |
| 2007 | John Adams | 1797-1801 | May 17, 2007 |
| 2007 | Thomas Jefferson | 1801-1809 | August 16, 2007 |
| 2007 | James Madison | 1809-1817 | November 15, 2007 |
| | | | |
| 2008 | James Monroe | 1817-1825 | February 14, 2008 |
| 2008 | John Quincy Adams | 1825-1829 | May 15, 2008 |
| 2008 | Andrew Jackson | 1829-1837 | August 14, 2008 |
| 2008 | Martin Van Buren | 1837-1841 | November 13, 2008 |
| | | | |
| 2009 | William Henry Harrison | 1841 | February 19, 2009 |
| 2009 | John Tyler | 1841-1845 | May 21, 2009 |
| 2009 | James K. Polk | 1845-1849 | August 20, 2009 |
| 2009 | Zachary Taylor | 1849-1850 | November 19, 2009 |
| | | | |
| 2010 | Millard Fillmore | 1850-1853 | February 18, 2010 |
| 2010 | Franklin Pierce | 1853-1857 | May 20, 2010 |
| 2010 | James Buchanan | 1857-1861 | August 19, 2010 |
| 2010 | Abraham Lincoln | 1861-1865 | November 18, 2010 |
| | | | |
| 2011 | Andrew Johnson | 1865-1869 | February 17, 2011 |
| 2011 | Ulysses S. Grant | 1869-1877 | May 19, 2011 |
| 2011 | Rutherford B. Hayes | 1877-1881 | August 18, 2011 |
| 2011 | James A. Garfield | 1881 | November 17, 2011 |
| | | | |
| 2012 | Chester A. Arthur | 1881-1885 | April 5, 2012 |
| 2012 | Grover Cleveland | 1885-1889 | May 25, 2012 |
| 2012 | Benjamin Harrison | 1889-1893 | August 16, 2012 |
| 2012 | Grover Cleveland | 1893-1897 | November 15, 2012 |
| | | | |
| 2013 | William McKinley | 1897-1901 | February 19, 2013 |
| 2013 | Theodore Roosevelt | 1901-1909 | April 14, 2013 |
| 2013 | William Howard Taft | 1909-1913 | July 13, 2013 |
| 2013 | Woodrow Wilson | 1913-1921 | October 13, 2013 |
| | | | |
| 2014 | Warren Harding | 1921-1923 |  February 6, 2014 |
| 2014 | Calvin Coolidge | 1923-1929 |  April 10, 2014 |
| 2014 | Herbert Hoover | 1929-1933 |  June 19, 2014 |
| 2014 | Franklin D. Roosevelt | 1933-1945 |  August 28, 2014 |
| | | | |
| 2015 | Harry S. Truman | 1945-1953 |  February 5, 2015 |
| 2015 | Dwight D. Eisenhower | 1953-1961 |  April 13, 2015 |
| 2015 | John F. Kennedy | 1961-1963 |  June 18, 2015 |
| 2015 | Lyndon B. Johnson | 1963-1969 |  August 18, 2015 |
| | | | |
| 2016 | Richard M. Nixon | 1969-1974 | February 3, 2016 |
| 2016 | Gerald Ford | 1974-1977 | March 8, 2016 |
| 2016 | Ronald Reagan | 1981-1989 | July 2016 |